Look fabulous when you accent your beauty with bridal hair combs on your special wedding day. These combs can be as simple or as elaborate as you would like. In addition, you may consider a variety of other bridal hair accessories to add just the right touch to your hair.

Use Wedding Hair Combs To Accent Your Beauty
There are combs that range from a variety of styles depending on how you want to wear them. They can be used to accent your hair or to compliment your veil of choice. The side combs can be as small and as a simple as an accented design of jewelry with three teeth to one that contains several teeth accommodating a design with more jewelry or an elegant white flower. Many brides choose an elegant array of jewels along their upper right or left sides of their hair.  This adds a simple touch of elegance without distracting from other areas of the ensemble.
You will also have a choice of finding a vintage bridal hair comb; some of which are decorated very elegantly with rhinestone, crystal, and pearl accouterments. You will find that these bridal hair combs are predominately silver and typically "minimalist" in nature. There are also vintage style hair combs with flower arrangements some of which are combined with jewelry. If you can find them, vintage accented combs from the 50′s are nothing short of elegant if you happen to find one in good shape.  When I say elegant, think "Jacqueline Kennedy"…..  Simple, but very beautiful….
Bridal Hair Clips and Pins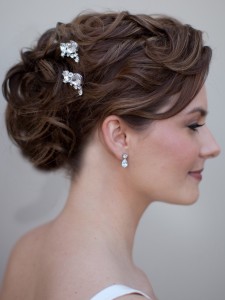 You will find that bridal hair pins and clips are also quite elegant and come in a variety of styles. There are gold, pear, crystal and rhinestone pins that give a small elegant touch to your hair.
Clips can display flowers, butterflies and jewelry arrangements.  A good tip to follow when using pins or clips is to place them higher on your hair. This way they may be seen and create the accented effect you desire.
How to Narrow Your Decision
To narrow your decision on what hair accessories you will need on your special day, think about what is best on your hair. Certain kinds of hair will not be able to accommodate the use of a comb as the hair is quite fine and therefore clips or bridal hair pins may be best for you. Your hair style will also be a determining factor as to what accessories you will need.
Your choice will also depend on what kind of accent you want on your hair. For example if you desire to accent the length of your hair then clips are great as you can place several down your hair. Bridal hair combs and pins do a great job to accent your hair and give you that picture perfect side view of your beauty accenting your face as well.
Another thing that may help you narrow your choice is the budget you have allotted yourself. Now do not mistaken cheapness with frugalness. You can still find a gorgeous bridal hair accessory without breaking your budget but it may require a bit of time and patience to find just what you are looking for.
Where to Buy
You will find many companies that offer their flair of styles and choices in bridal hair accessories. Some may focus more on bridal hair combs while other offer choices for pins and clips as well. Wholesale companies offer the opportunity to buy in bulk should you desire more than one of bridal hair clips, combs or pins.
Your budget will also determine where you decide to make your purchases. Stores such as BHLDN located in Chicago, Houston and Beverly Hills will offer higher prices on their accessories but they are perfect for those of you with exquisite taste.
Places like Etsy can offer a variety of unique choices. You may be able to find wedding hair combs, pins and clips which are made by hand and uniquely designed. The different offers you may choose from range from already to custom made.
Now, for even more unique finds or for the authentically vintage bridal hair comb, eBay may be your best bet. On eBay, you have the opportunity of finding previously owned bridal hair combs that have superior beauty and may be quite unique at a great price.