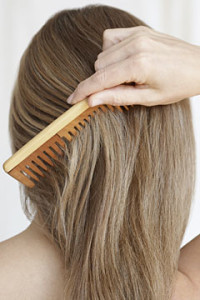 Help keep your hair healthy and detangled with a wide tooth comb.  Unlike a regular comb, the teeth of these combs are spaced wide apart.  You will find these combs are great for hair that is long, curly, wavy, or all three.
Advantages of "Wider" Teeth Combs
It does not take long to notice a difference between regular combs and these.  When you abound with curls you can even find a wide tooth comb for curly hair. You will find that wide tooth combs do not snag as regular combs have a tendency to do.
Your hair depends on being handled gently to avoid split ends.  Wide tooth combs also help your hair not to get caught and break thus preventing your hair from becoming a frilly mess.
The Right Comb for You
The best wide tooth comb that is right for you will depend on different factors. Some combs have special handles, such as the wide tooth comb for curly hair, that help with finishing touches. There are other wide tooth combs that come with no handles at all.
You may even find that you require a comb that is extra wide tooth comb. There are also combs that are specific for hair that has had a perm or to help comb your conditioner into your hair. Those with super fine hair will find that a seamless wide tooth comb will be the comb for you.
Choices also include a preference for using wooden wide tooth combs rather than the plastic ones which can cause static. Wide tooth combs help to distribute the oils in your hair more evenly that will provide a healthier shine.
The things to take into consideration when choosing the best wide tooth comb are the following:
The thickness or style of your hair
The purpose for what you want to use it for (in the shower or on dry hair)
The style of comb you are comfortable with (with or without a handle)
How much you are willing to invest (depends on brand)
Comparing Combs
It is good to have a variety of choices when it comes to a wide tooth comb.  If you're in the market for one, you'll want to check out the Conair wide tooth comb. This comb is easily found at your local grocery or drugstore, and the price is quite economical.  You can hang the Conair comb in your shower as it comes with a practical hook on the handle for easy storage in or near your shower.  This makes your comb available when you need it to detangle or comb through hair with your favorite conditioner.  You will find that your hair responds better when wet and can certainly benefit from these types of combs shortly after conditioning.
Conair also offers an anti-static comb that helps you get your tangles out without causing split ends.  This wide tooth comb may be used to style your hair wet or dry.  Once again, you will find that this Conair wide tooth comb is quite affordable; but don't let the price fool you.  It's the perfect tool for lots of hair.
The Mason Pearson comb has its own popularity where prices vary depending on the style of wide tooth comb you decide on.  Mason Pearson is a London based company that has already gained a reputation for providing hair care products.  The teeth on these combs are polished to ensure they manage your hair smoothly.
You will find that these combs come in a variety of styles for both wet and dry hair. Mason Pearson line of combs also includes a seamless wide tooth comb. Customers prefer these as they ensure that their hair is not snagged or damaged.
Aside from Mason Pearson and the Conair wide tooth comb there are other brands offering a variety of styles, prices and uses.  There are even artistically engraved combs to express your desired beauty in the combs you use.